A soft, pillowy flaxseed bread that can be baked as a loaf, Focaccia-style or even as muffins. This bread uses coconut flour as a base and is great toasted. Great for low carb, gluten free and Paleo diets. No eggy taste!
Who loves bread? Well, who doesn't love bread??
For many people, bread is one of those things that is impossible to give up. It's not only delicious in a comforting kind of way (I'm thinking buttered warm toast here), it is also such an easy and transportable meal staple.
It really is astonishing that we are still being told by our governments that the bulk of your diet should come from carbs and grains.
THIS COCONUT FLOUR FLAXSEED BREAD RECIPE IS DELICIOUS, EASY AND REALLY VERSATILE.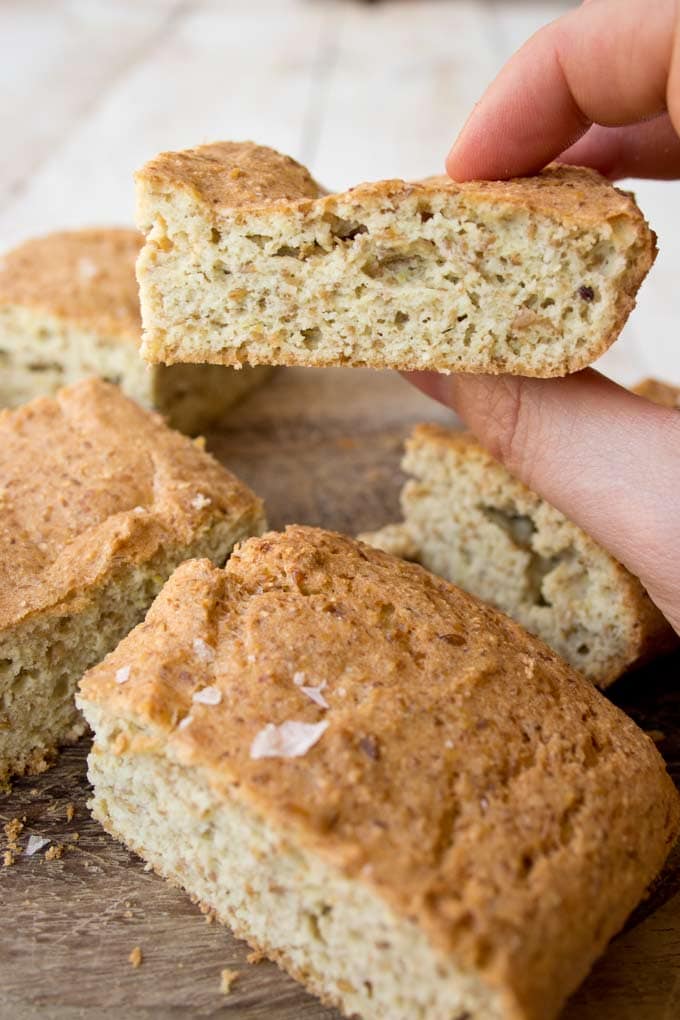 RECIPE VARIATIONS
You CAN make this flax bread with almond flour instead of coconut flour. I'd think you would have to use twice the amount of almond flour as it's less absorbent. In this case, you'd also leave out one of the eggs.
You could top your coconut flour flaxseed bread with seeds (I tried sesame seeds, which worked well) or even mix some seeds into the dough. Or you go full-out Focaccia by adding rosemary and garlic on top.
I used olive oil in the recipe because I was after a "bread" taste. I think it masks the taste of the coconut flour well, especially in combination with the salt. This way, the bread is perfect for savoury toppings. If you wanted, you could use melted butter instead and have more of a muffin-type taste, which would be good for sweet toppings.
Tried this recipe? Give it a star rating below!
Flaxseed Bread with Coconut Flour
This bread uses coconut flour as a base and is great toasted.   Course Breakfast Cuisine British, Paleo Keyword coconut flour bread, flaxseed bread, low carb bread Prep Time 5 minutes Cook Time 35 minutes Total Time 40 minutes Servings 8 Calories 183 kcal Author Katrin
Ingredients
3/4 cup / 75 g coconut flour
1/2 cup / 60 g ground flaxseed / flax meal
3 eggs large
3 egg whites large
5 tbsp olive oil
2 tsp baking powder
4.7 oz / 140 ml / water (10 tbsp)
pinch sea salt
Instructions
Preheat the oven to 180 Celsius / 356 Fahrenheit.
Whisk the eggs and egg whites with an electric mixer or in a food processor until foamy.
Add the rest of the ingredients and blend until you have a smooth dough.
Let the dough sit for a few minutes so the coconut flour and flax can absorb the moisture.
Pour the mix into a well-oiled pan (alternatively, line a pan with baking paper) and bake at 180 Celsius / 356 Fahrenheit for 35 minutes or until browned on top. It's ready when a knife inserted comes out clean.
If you prefer to bake as a loaf, increase the time in the oven by 10 minutes.
Recipe Notes
I baked my bread Focaccia-style in a 25×15 cm casserole dish. Next time, I will line it with baking paper to be able to take it out easier.
When you make flaxseed muffins with this recipe, the oven time will probably have to be reduced. My guess would be 25-30 minutes.
Nutrition is calculated on the basis of 8 portions (when I cut the focaccia flaxseed bread into squares).
These portions are generous! The loaf I made on day 2 yielded 20 slices.
When I made the loaf, I used a silicone loaf mould – they are brilliant! SO much better than the regular tin pans. Nothing EVER gets stuck in a silicone mould. It will change your (bread baking) life!!